---
News — sunbasilgarden
Posted by Lauren Miller on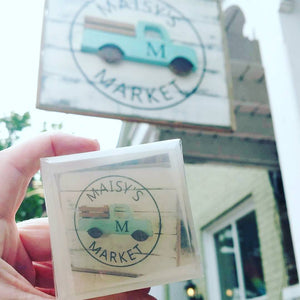 We now offer customized options on our Say it Soap line. Shop our handmade personalized soaps. You can share your business logo and website in a unique and memorable way with potential customers. Check out one of our favorite stockists adorable rustic truck logo we put inside a bar of glycerin soap. Isn't that little truck adorable? We will label the back of each bar of soap with your website, business address and phone number. Maisy's Market makes beautiful heirloom furniture and these little soap calling cards are just a little something extra they pass out with special orders. Contact...
---
Posted by Lauren Miller on
Don't forget to treat all the Moms in your life this May 14th! We have an entire line up of natural soaps, bath bombs and lotions made exclusively with Mom in mind. Be sure take advantage of our week long Mother's Day sale and enjoy 25% off all orders. Must use coupon code "TREATMOM" at checkout. Expires 5-5.  We are happy to ship directly to Mom's front door. Just include her address at shipping and a little note from you to her in the comments. And we will gift wrap and take care of the rest. Some of our personal...
---
Posted by Lauren Miller on
Makers of handmade. Has this become your new normal? It goes something like this... I need to check my Facebook ad converstions, what's my click per ad ration, where is my pixel and what the heck is a pixel anyways, are my listings coming up in Etsy searches, "gift for her", "gift for him", "gift for mom", "gift for them" why did I just loose Instagram followers, did I answer that comment, are they seeing this on Pinterest, are my Pins buyable?, did I hashtag that?, did I over hashtag.... Okay makers... It's time to chill out! Just a bit. All these...