---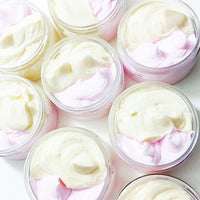 Our strawberry banana whipped body butter is all new for your summer bath time routine. And it smells almost edible. Juicy ripe strawberries blended together right beside our favorite mouth watering banana. Our body butters are all natural and a little bit goes quite a long way. Never greasy on the skin and our formula will soak in and stay in place for hours. 
Pick from our Mini 2 oz jar and Large 10 oz jar.
You may also enjoy a bar of our Strawberry Banana Milkshake soap here. Just to complete the yummy experience. This soap has been in our line up for over 9 years and a fan favorite.
Have more questions, visit our FAQ or message us anytime.