---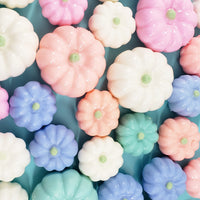 Pastel pumpkins are so on trend so we designed these handmade pumpkin soaps for use in your fall home decor and to use as bar soap. Select your pack of 5 pumpkin soaps from white pumpkins perfect for farmhouse decor, pink pastel pumpkins, teal green pumpkins, blue or our mix pack of pastel pumpkin soaps.
Each listing includes 5 pumpkin soaps. Select your color preference at checkout.
You will receive 2 larger pumpkins, and 3 mini pumpkins. 4 oz and 1 oz.
We love to of course use these to decorate the soap dish in the bath and kitchen but also pop these around your home. On top of picture frames, shelves, anywhere you need a little fall pumpkin. 
Our soaps are all natural and these are scented in a frosted pumpkin with a gentle spice.