---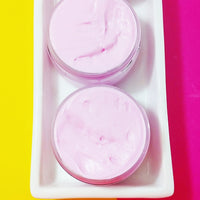 Our Yuzu whipped body butter lotion is like wearing pure sunshine. Our handmade creamy body lotion truly soaks into the skin but in seconds of applying it, you can actually touch things without feeling greasy. It also stays put and won't wash off right away. Made with 98.5% naturally derived ingredients in a thick, creamy amazing texture. Apply a tiny amount as a little goes a long way. This is a jar of body butter you will actually use up to the last drop.
Yuzu is a Japanese grapefruit scent that is filled with cheerful notes of citrus that will bring a smile to your face and make you feel fresh and ready to face your day.
Pick from our travel mini size jar, 2 oz and our large 10 oz jar.
Visit our entire line up of body butters here.